Christie Ally Steps Down as NJ Pension Investment Head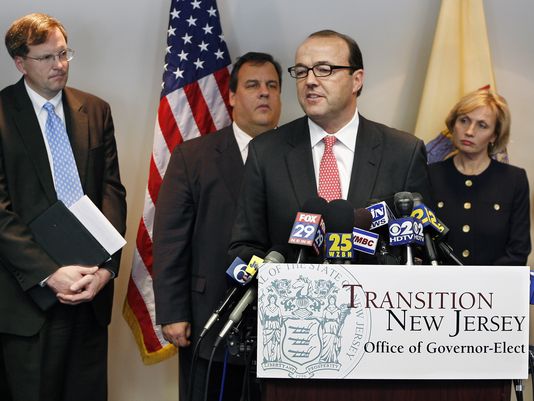 Asbury Park Press File Photo
Robert Grady steps down after more than four years as head of the State Investment Council. The private-equity investor is an influential policy adviser and speechwriter for Gov. Chris Christie.
Asbury Park Press - TRENTON - Robert Grady, an influential political adviser to Gov. Chris Christie, stepped down today as chairman of the panel that oversees management of New Jersey's pension investments.
Grady, a managing director of the the private equity fund Cheyenne Capital, announced his resignation at the end of Thursday's monthly meeting of the State Investment Council. He has held the post since 2010.
Council members aren't paid, and Grady would travel to New Jersey from his home in Wyoming for meetings. The website Chief Investment Officer reported that Grady is leaving in part because his young son has been critically ill.
The New Jersey AFL-CIO filed an ethics complaint against Grady in September, alleging that under Grady the state invested some of its $80 billion in pension funds with companies that donated to Republican groups with ties to Christie. A separate inquiry is underway by a Treasury Department auditor into whether an investment, which has since been sold, with a Massachusetts fund tied to Gov.-elect Charlie Baker was appropriate under state pay-to-play restrictions.
Grady, who has known Christie since each attended Livingston High School, was communications director under Gov. Thomas Kean and a speechwriter and policy adviser for President George H.W. Bush in the 1988 campaign and in the White House. He has helped Christie with speeches, such as the keynote at the Republican National Convention in 2012.
Leaving the State Investment Council could provide Grady more time and freedom from fundraising restrictions to solicit contributions to a Christie exploratory or campaign committee, if Christie decides to seek the presidency.
Council vice chairman Tom Byrne, a son of former Gov. Brendan Byrne, will assume the chairman duties temporarily.
This article appeared in the Asbury Park Press authored by Michael Symones.
http://www.app.com/story/news/politics/new-jersey/2014/11/19/christie-pension-investment-resigns-robert-grady/19290841/