State Pension Woes Haunt Christie Campaign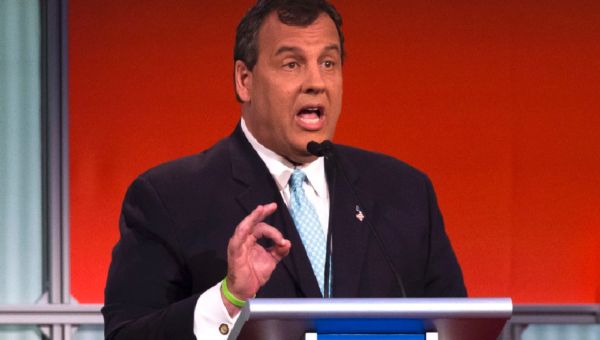 hris Christie's presidential bid is being haunted by the Garden State's crippling pension problems, which the governor has yet to tame. Photo by: AP.
Washington Examiner - New Jersey Gov. Chris Christie is running for the Republican presidential nomination on his reputation as a hands-on guy who fixes tough budget problems. But his bid is being haunted by the Garden State's crippling pension problems, which the governor has yet to tame.
In the first GOP presidential debate Thursday night, moderator Brent Baier asked specifically about the state's economic condition, including its pension crisis. Christie did not mention pensions at all in his response, instead touting private-sector job growth and his refusal to raise taxes.
Christie spokeswoman Samantha Smith told the Washington Examiner Friday that the non-response was due to the debate's time constraints. "[It's] hard to fit everything into one minute," she said.
She conceded, though, that it was a major problem that the governor has yet to resolve. She argued the blame lay mostly with his predecessors.
"The system is still broken due to decades of underfunding and mismanagement by both parties. Governor Christie has put forward a specific, detailed plan based on the recommendations of independent experts — not politicians — to fix the problem once and for all before it overwhelms taxpayers," Smith said.
The governor's home-state critics were less forgiving. "The last thing Gov. Christie can afford in this campaign is for the rest of America to know how badly he has messed up New Jersey's economy and worked to destroy its pension system," said Steven Baker, spokesman for the New Jersey Education Association, which has clashed repeatedly with the governor.
Clark Packard, government affairs manager for the conservative nonprofit National Taxpayers Union, argued that Christie actually missed an opportunity by not talking about it during the debate. Packard said Christie's refusal to give in to pressure to raise taxes to meet the budget gaps would play well with Republican audiences.
"But it could also pose long-term problems for him in the general election, playing into the image of Republicans as being uncaring for retirees and the poor," Packard said.
The fund's unfunded liability was estimated at $47 billion when Christie took office in 2010. It is now estimated at $51 billion, according to a study by the Pew Charitable Trusts. That's about 138 percent of the state's annual revenue, the sixth highest rate in the nation. The fund only has enough assets to meet 62 percent of future obligations. Pew ranked the Garden State number three overall in the size of its pension debt, behind Illinois and California.
By contrast, Wisconsin, the state of rival primary candidate Scott Walker, has one of the healthiest funds in the nation with an unfunded liability of just $52 million.
Smith argued Christie had worked aggressively to deal with the issue and had put nearly $4.2 billion in the fund through his budgets as governor, "more than all previous governors from 1995 through 2010."
A June report by New Jersey Spotlight, a state watchdog organization, put Christie's contributions at about $3.9 billion.
Christie tried to get control of the pension crisis early in his administration, signing a reform bill in 2011 that obligated the state to higher future payments into the fund in exchange for higher contributions from fund participants. He heavily touted it at the time as one of his key legislative successes, calling it a "model for America."
However, Christie's plan was based on projections for growing state revenue that did not pan out and he faced a $2.7 billion budget hole in the current budget. In response, he knocked down the state's promised pension fund payment in his current budget from $3.1 billion to just $1.3 billion.
Outraged public-sector unions challenged the cuts in court, saying Christie had no right to renege on the promises of the 2011 reform. The state supreme court sided with the governor in June, allowing Christie to skip the payments.
"He's great at making promises," Baker said. "But he walked away from that [2011 deal] and actually sued to have his own law overturned."
A second challenge, this one by the pension fund's trustees, is also appearing before the state supreme court, but the lawsuit is limited to whether Christie can freeze cost-of-living adjustments to pension payments. The court has yet to rule.
State Democratic lawmakers have called for higher taxes, including a new "millionaires tax" and a one-year 15 percent surcharge on the state's corporate income tax. The new taxes would raise at most $1.1 billion in additional revenue, about $700 million short of what it would take to meet the pension fund obligation just for the current fiscal year.
State lawmakers are now calling for federal help. New Jersey State Senate President Steve Sweeney has called for a federal low-interest loan program to rescue the state, adding that the government should institute the loans program nationwide to help rescue other states.
"Pension responsibilities have become a financial crisis for states throughout the country, with mounting debts and underfunded obligations that are growing beyond the reach of state budgets," Sweeney said last month.
This article appeared on washingtonexaminer.com authored by Sean Higgins.
http://www.washingtonexaminer.com/state-pension-woes-haunt-christie-campaign/article/2569850