The 25th Annual Elizabeth Fire Department's Memorial Day Ceremony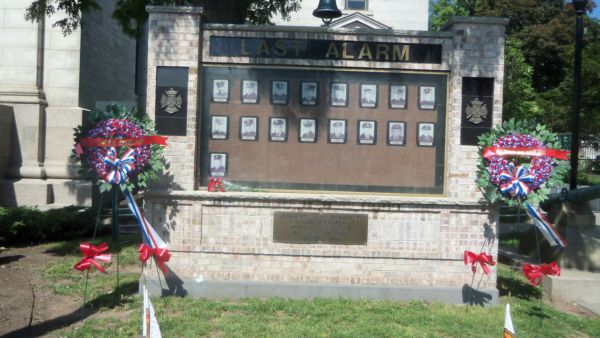 Photo by: Alexandria Addesso
May 25, 2015
TAPinto.net - ELIZABETH, NJ - The 25th Annual Elizabeth Fire Department Memorial Day Ceremony took place in front of the Union County Courthouse at 10 a.m. on May 25.
The service started with an invocation by the fire department's chaplain Hugh O'Donnell. "Today we must remember all the men and women who serve," said O'Donnell.
Two wreaths were placed on the Firefighters' Memorial Wall in front of the courthouse as well as in front of the firefighter's statue in remembrance of the two Elizabeth firefighters who died in the past year.
"The fire department of our city is second to none," said Mayor Christian Bollwage after describing his own experience with the service of the department when a fire broke out at his own home.
The Elizabeth Honor Guard two gun salute for the fallen firefighters and the alarm bell was rung twice. "Taps" was played on the bagpipes by Firefighter Scott Clarke.
"As you know many of these firemen are also veterans so we thank you for your service," said Union County Freeholder Angel Estrada.
The keynote speaker of the service was current EFD Chief Thomas McNamara.
Following the ceremony there was a march from the courthouse down Elizabeth Avenue to Dickinson Street between Winfield Scott Plaza and Martin Luther King Boulevard where the city's Annual Memorial Day Ceremony was held.
This article appeared on tapinto.net authored by Alexandria Addesso.
https://www.tapinto.net/articles/the-25th-annual-elizabeth-fire-departments-memor