10 Displaced, 2 Buildings Damaged in 5-Alarm Fire in Elizabeth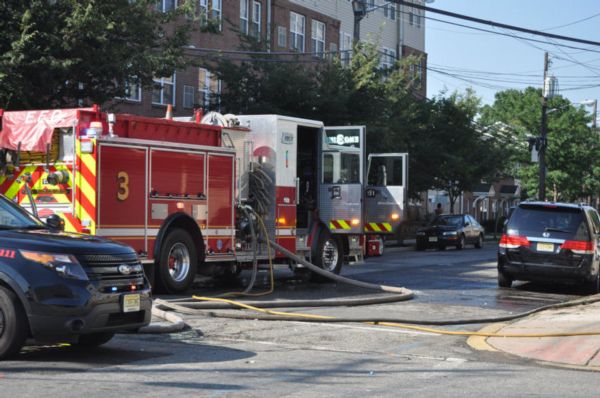 Fire crews remained on scene the morning after a fire on 2nd Street in Elizabeth on Monday, Aug. 3, 2015. Photo by: Katie Lannan.
August 4, 2015
NJ.com - ELIZABETH - Ten people were left without homes after a five-alarm fire in two buildings on the 200 block of Second Street in Elizabeth Monday night, according to city spokeswoman Kelly Vence.
Two buildings were heavily damaged in the blaze, which began around 11:15 p.m., Vence said.
Vence said the cause of the fire is under investigation. The fire began in the rear of one of the buildings and then spread to the building next door.
According to Elizabeth Fire Chief Thomas McNamara, the two buildings involved were a three-story wood-frame apartment building with a church on the first floor and 2.5-story wood-frame building with a commercial tenant on the first floor and apartments on the second floor.
McNamara said both buildings are uninhabitable due to fire and water damage and that crews were still doing overhaul work and putting out hot spots this morning.
Several local fire departments were called in to assist with putting out the fire and no one was injured.
This article appeared on NJ.com authored by Jessica Remo.
http://www.nj.com/union/index.ssf/2015/08/overnight_fire_destroys_elizabeth_apartment_buildi.html