Taxpayers Beware! New Jersey's Debt for Employee Benefits Nears $200 Billion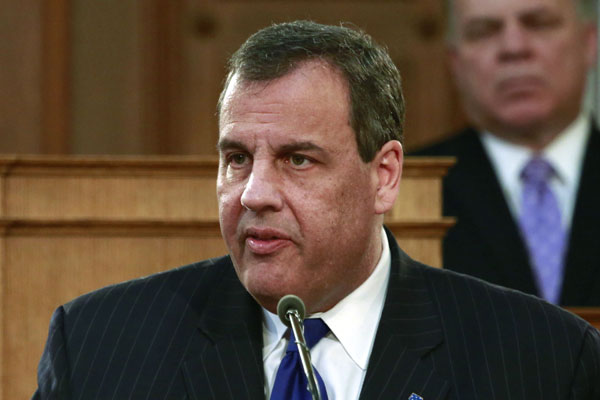 Gov. Chris Christie has butted heads with Senate President Steve Sweeney and other legislators concerning the pension and health-benefits shortfall.
Does making good on the pension and health benefits unfunded liability mean that state taxes will skyrocket?
NJ Spotlight - Guard your wallets, New Jersey taxpayers! The deficit in state pension and health-benefit plans for public employees is fast approaching $200 billion.
The unfunded liabilities have reached a staggering $194.5 billion, according to a New Jersey Watchdog analysis of State Treasury records. The shortfall has increased by $19 billion -- or roughly 10 percent -- in the past year.
Here's a breakdown of bad news that seems certain to result in higher taxes, decreased retiree benefits or both:
New Jersey's public pensions are underfunded by $113.1 billion. The state bears $80.5 billion of that burden. Local governments are responsible for the remaining $32.6 billion.

State and local governments are also on the hook for $81.4 billion in unfunded health benefits for retired and active workers. The state owes $65 billion; the local share is $16.4 billion.

The total shortfall is $194.5 billion -- more than $60,000 per household. The figure is nearly six times higher than New Jersey's total annual budget, currently $33.8 billion.
At the present pace, those unfunded liabilities will exceed $210 billion next year.
"The situation is not only getting worse, but is fast approaching a point at which it will be beyond remedy," warned the governor's bipartisan, blue-ribbon Pension and Health Benefit Study Commission in a report released in February.
Keeping benefits at their current level would require a 29 percent hike in state income taxes or increasing the sales tax to 10 percent, the study estimated.
"The already narrow window for a reasonable solution is closing fast. Only decisive action now can preserve a solid foundation of public employee benefits before the ever-growing hole the state has dug itself into becomes too deep for the state to dig itself out of without crushing tax increases and deep cuts to employee benefits and public services," the commission stated.
That was seven months ago. Since then, Gov. Chris Christie and lawmakers have failed to make progress on realigning New Jersey's costly benefits to a level comparable to what private-sector employers offer their workers.
I will never stop working to fix the problems we have previously ignored," Christie promised during his budget address when he released the report. "I will never give up on New Jersey."
But now, Christie spends much of his time away from New Jersey, campaigning for president. Last week, he announced his goal of holding 100 town hall meetings in New Hampshire before its February primary.
Meanwhile, the Democratic leaders who control the state Legislature have been fixated on $4 billion in state-pension contributions Christie slashed by executive order to avoid budget deficits over three fiscal years. The lawmakers have used the skipped payments as reason not acting on reforms.
"The real issue here is trust," said Senate President Steve Sweeney this summer. "How can we ask workers to come to the table when the governor will not honor his commitments?"
Sweeney has argued the retirement system would be on a healthy track if Christie had made the scheduled pension payments. But the commission's study tells a much different story.
"It is the cost of pension and health benefits combined that has pushed benefits funding beyond the state's means," stated the report. "Significant reduction of health benefits costs at the state and local levels is an essential element of any effort to provide public-sector employees with adequate, sustainable and certain retirement benefits funding."
In fact, the Treasury's latest numbers show that New Jersey's unfunded liability for health benefits skyrocketed by $14.6 billion in the past year, increasing from $66.8 billion to $81.4 billion.
"These costs are wildly out of step with the private sector and unsustainable for the state and taxpayers," Treasury spokesman Christopher Santarelli told New Jersey Watchdog.
Unchecked, it could be a final nail in the financial coffin of a state that has already suffered nine credit downgrades under the Christie administration.
"That, in brief, is New Jersey's future without meaningful public employee benefits reform -- a future that is bleak, burdensome and unacceptable to everyone," the commission concluded.
This article appeared on njspotlight.com authored by Mark Lagerkvist of New Jersey Watchdog.
http://www.njspotlight.com/stories/15/09/14/taxpayers-beware-new-jersey-s-debt-nears-200-billion-for-benefits/