Church Roof Collapse in Rahway Sends 15 to Hospitals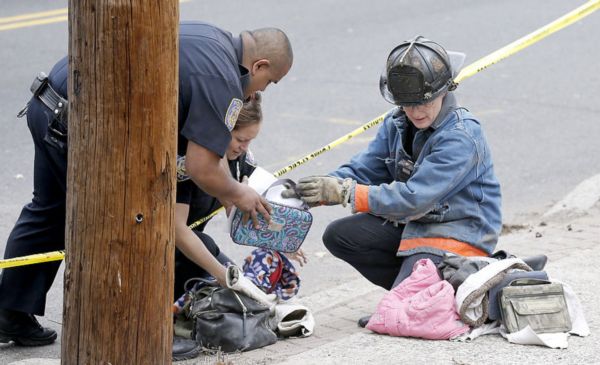 Police and a firefighter go through personal belongings that were left in the church. The roof of the ELIM United Methodist Church collapses during services for the Manantial De Vida Church. Sunday April 5, 2015. Rahway, NJ, USA (Aristide Economopoulos | NJ Advance Media for NJ.com)
April 5, 2015
RAHWAY - NJ.com - More than a dozen people were sent to hospitals after the roof came crashing down at a church in Rahway during services Sunday afternoon, officials said.
The collapse, which occurred before 2 p.m. at Korean Union United Methodist Church on West Grand Avenue, initially left more than a dozen people trapped, Union County spokesman Sebastian Delia said.
Fourteen people were transported to Robert Wood Johnson University Hospital in Rahway for treatment, Donna Mancuso, a hospital spokeswoman said.
"Two seem to have serious injuries and the rest were not so seriously injured," Mancuso said. As of Sunday evening, all of the people taken to Robert Wood Johnson had been released, she said.
One person was transported to University Hospital in critical condition, Delia said.
As of 4 p.m., dust-covered congregants were still gathered outside of the church and county emergency services remained at the scene. Elizabeth Fire Department's technical rescue team was conducting an assessment of the structure, Delia said.
Members of the Manantial de Vida Pentecostal congregation, which rents out the church, were in the middle of a song when they heard a cracking sound above them, witnesses said.
After debris began falling, people started screaming and running for cover.
Ashley Soto, a worshiper, said pieces of the ceiling began to fall, and a teacher told people in the building to sit on the sides of the room. One woman who didn't was badly hurt, she said.
Police Chief John Rodger said the one woman taken to University Hospital suffered a serious laceration to the head.
"You could definitely say that God was watching over the members of the congregation," Mayor Samson Steinman said. "It could have been a lot worse."
This article appeared on NJ.com authored by Kimberly Redmond. NJ Advance Media Staff Photographers William Perlman & Aristide Economopoulos contributed information to this story.
http://www.nj.com/union/index.ssf/2015/04/building_collapse_sends_12_to_hospital_authorities.html