Christie Proposes Hiking U.S. Retirement Age to 69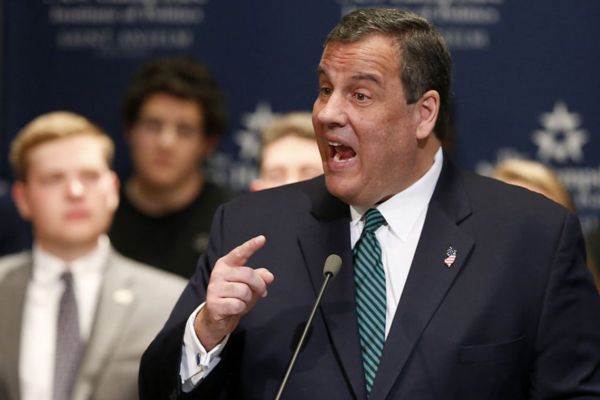 New Jersey Governor Chris Christie speaks at the New Hampshire Institute of Politics at Saint Anselm College. Tuesday April 14, 2015. Manchester, NY, USA (Aristide Economopoulos | NJ Advance Media for NJ.com)
NJ.com - MANCHESTER, N.H. - Gov. Chris Christie has been pitching his controversial plan to overhaul so-called entitlement programs in New Jersey for weeks. Today, he unveiled a national proposal to reform Social Security, Medicare, and Medicaid.
Christie's plan calls for an income cap for Social Security benefits. The Republican governor proposed phasing out Social Security payments for people making more than $80,000 in additional income and eliminating the benefits altogether for people making more than $200,000 or more a year.
"Unless we deal with this crisis, the young people of this country will get poorer; the disparity between young and old, the working middle class and the retired will grow even larger," the potential 2016 presidential candidate said. "Our economy will grow even weaker. Our debt will skyrocket."
The proposal calls for raising the retirement age to 69 and raising early retirement to 64. The current retirement age is 67 for those born in 1960 or later.
Christie said his plan will reduce the growth of entitlements by more than $1 trillion over the next decade.
The likely White House contender who was once led the GOP field is billing himself as a leader who's unafraid to share "hard truths" with people as he embarks on reigniting his presidential prospects.
"I have come to New Hampshire today to talk about the challenges we're facing as a country," Christie said.
"It is time to tell the truth about what we need to do in order to solve our problems and put our country back on the path to greater prosperity," he said. "Washington is afraid to have an honest conversation about Social Security, Medicare and Medicaid with the people of our country. I am not."
Christie, who said he'll announce a decision on a national campaign by early summer, unveiled the plan during a speech at the New Hampshire Institute of Politics at Saint Anselm College in Manchester.
The speech kicked off a two-day tour, four-city tour of the state.
"This is a conversation Washington politicians don't have because they do not believe the American people have the appetite for hard truths," Christie said. "Once again, they underestimate our people. Americans not only deserve fairness, they deserve the honesty of their leaders."
The plan was unveiled as Christie embarks on reigniting a possibly nationwide campaign after New Jersey's governor spent the last year watching his poll numbers sink to historic lows in the Garden State and his once frontrunner status dwindle to tier two presidential hopefuls.
Christie's speech was peppered with shots at President Obama, who he blasted for having failed to "address our biggest challenges in an honest way."
But while Christie takes his message of entitlement reform to a national audience, he faces challenges at home.
Christie is pushing reforms to New Jersey's pension and health benefit plans for public workers. But he's been met with opposition from public workers, who rail against the governor for reneging on a promise to pay the state's full share into New Jersey's ailing pension system.
This article appeared on NJ.com authored by Matt Arco.
http://www.nj.com/politics/index.ssf/2015/04/from_nh_christie_proposes_hiking_social_security_r.html