NJ Democrats Say They'll Make Good on $3.1 Billion Pension Promise With Budget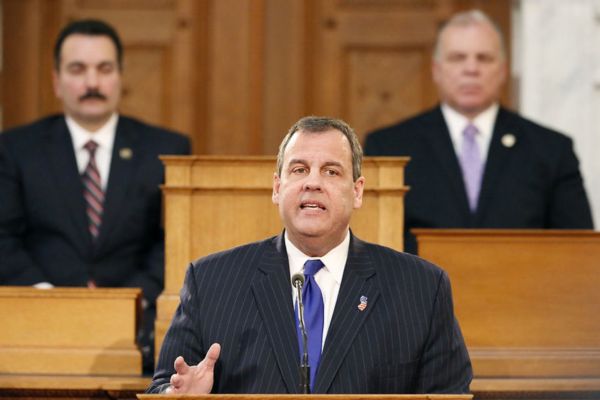 Governor Chris Christie will deliver his Fiscal Year 2016 Budget Address to the Joint Legislature and the people of New Jersey while in the State House's Assembly Chambers. Tuesday February 24, 2015. Trenton, NJ, USA (Aristide Economopoulos | NJ Advance Media for NJ.com)
NJ.com - TRENTON - Democratic lawmakers on Monday are expected to reveal their plan for a state budget they say would bridge the gap between the $1.3 billion Gov. Chris Christie wants to spend on public worker pensions next year and the $3.1 billion unions are demanding.
That plan likely relies on the controversial millionaires' tax and a surcharge on corporation business taxes, and will resemble Democrats' efforts last year to restore $1.57 billion to pensions cut by Christie, sources with knowledge of budget talks say.
The last time Democrats proposed the millionaires' and business tax hikes, they were redlined by Christie. He's given no indication that he's budged from his opposition to the income tax increase, which all told he's vetoed four times.
Most observers expect that fate looms again as the state Assembly and Senate put the final touches on a budget that could spend $1.8 billion more on pensions than Christie's $33.8 billion spending plan.
The state Senate and Assembly budget committees are scheduled to take up the budget Tuesday in prelude to the full Senate and Assembly on Thursday. The fiscal year begins July 1.
While legislative leaders and the governor have met to negotiate on the upcoming spending plan, state Senate President Stephen Sweeney (D-Gloucester) declared June 9 that there was no chance of a compromise budget.
Earlier that day, a state Supreme Court ruling that Christie didn't have to find billions of dollars for pensions averted an immediate budget crisis. But after the ruling Democrats dug in and pledged to make the full $3.1 billion payment for the upcoming fiscal year year.
"We are committed to stabilizing the pension and funding the pension, and more importantly to working toward a long-term fix so it's financially stable," Assembly Majority Leader Lou Greenwald (D-Camden) said last week.
To do that, "everything is on the table," state Senate Budget and Appropriations Committee Chairman Paul Sarlo (D-Bergen) added. Lawmakers said the details of the budget are still coming together, and that they've toyed with several options to make the full pension payment.
The largest state labor union, the Communications Workers of America, formulated and vowed to steer lawmakers toward its own funding plan, which includes increased taxes on income over $350,000, the business tax surcharge, freezing Christie's small business tax cuts and closing corporate tax loopholes by enacting combined reporting.
Sweeney has already sponsored a bill that has support from Assembly Leader Vincent Prieto (D-Hudson) to hike taxes on people earning more than $1 million.
Sweeney's millionaires' tax bill would raise the tax rate on income over $1 million from 8.97 percent to 10.75 percent for four years, raising an estimated $675 million for the next budget. That bill would also increase the earned income tax credit for low-income workers from 20 percent of the federal credit to 25 percent.
But other aspects of CWA's proposal, Assembly Budget Chairman Gary Schaer (D-Passaic) said last week, "are being looked upon very favorably by the leadership of the Assembly and Senate."
The corporation business tax surcharge Democrats sent Christie last year would have raised another $390 million. That budget also suspended for a year the Business Employment Incentive Program, freeing up $175 million.
Business groups and Republican lawmakers have planned a news conference for Monday to criticize efforts to raise income taxes.
State Sen. Raymond Lesniak (D-Union) said Saturday he will introduce a bill that matches the final piece of CWA's plan: to close corporate tax loopholes that allow some multi-state businesses to shuffle profits across state lines to avoid paying New Jersey taxes. However, it is not clear whether that will ultimately be a part of the Democrats' budget strategy.
"It certainly should be," Lesniak said. "Every $250 million helps."
In a policy paper released last week, liberal think tank New Jersey Police Perspective estimated the state could collect another $235 million to $470 million a year by blocking businesses' complicated tax avoidance schemes.
Assemblyman Declan O'Scanlon (R-Monmouth) said he's not privy to the Democratic budget details, but "I'm hearing that it's very likely to include some very hefty tax increases in order to torture itself into making a full pension payments."
"I think that's an impractical goal," he continued. "I think doing so would not be in the best interest of anybody in New Jersey. I think it would be damaging to the New Jersey economy, and it would be damaging to the budgets of New Jersey taxpayers."
O'Scanlon argued that to make their plan work, Democrats must be fabricating revenue projections to meet their needs.
"Smoke and mirrors and economy crushing tax increases are not the foundation of good policy," he added.
This article appeared on NJ.com authored by Samantha Marcus.
http://www.nj.com/politics/index.ssf/2015/06/nj_democrats_say_theyll_make_good_on_31_billion_pe.html