Pension Talks? NJ Speaker Calls Union Heads to Meeting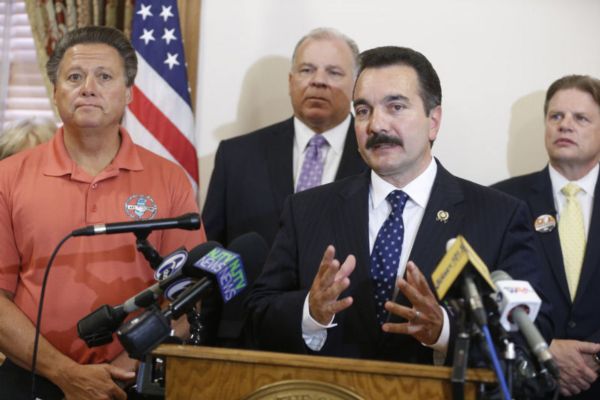 Assembly Speaker Vincent Prieto speaks during a news conference in Trenton. New Jersey State AFL-CIO unions are joined by Senate President Stephen Sweeney and Assembly Speaker Vincent Prieto for a news conference. They addressed the need Gov. Chris Christie to meet his Chapter 78 obligation by putting the required $3.1 billion into the pension system for fiscal year 2016. Thursday, June, 25, 2015 (Patti Sapone | NJ Advance Media for NJ.com)
NJ.com - TRENTON - State Assembly Speaker Vincent Prieto has invited the heads of the state's public worker unions to his office Thursday morning to talk pensions, NJ Advance Media has learned.
The 10 a.m. meeting in Secaucus comes as Democrats have resisted Gov. Chris Christie's proposal to overhaul the troubled pension system and the Republican governor rejected their plans to raise billions more for the retirement funds through tax increases.
"We know it's about pensions. Short of that, I don't know the context of it," said Eddie Donnelly, president of the New Jersey State Firemen's Mutual Benevolent Association. "I asked specifically and they told us that it's about pensions and we'll be informed when we attend the meeting."
Prieto (D-Hudson) did not respond to requests for comment.
Pat Colligan, president of the New Jersey State Policemen's Benevolent Association, said he'd been invited as well but didn't have more details.
Along with state Senate President Stephen Sweeney (D-Gloucester), Prieto had pushed a proposal this year to tax millionaires and corporate profits to boost Christie's planned $1.3 billion payment to $3.1 billion. Christie vetoed the tax hikes.
New Jersey's public-sector retirement system is among the worst funded in the U.S., with a $40 billion shortfall to cover future benefits promised by the state. Two of the largest pensions funds are in danger of running out of money by 2024 and 2027.
Christie has proposed a sweeping overhaul that would knock current employees out of the pension system and into a hybrid defined-benefit, defined-contribution plan. It also asks workers to pay a larger share of less generous health care benefits.
But state Democratic and labor leaders scoffed any any additional reforms, arguing Christie's renunciation of a 2011 pension overhaul he'd once championed and declared as a major victory had broken their trust.
This article appeared on nj.com authored by Samantha Marcus.
http://www.nj.com/politics/index.ssf/2015/07/pension_talks_nj_speaker_calls_union_heads_to_meet.html#incart_river_mobile