NJ Search and Rescue Team at Joint Base May Get Federal Support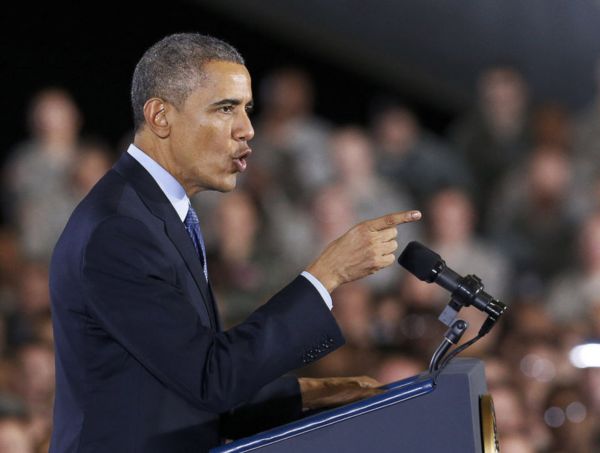 President Barack Obama speaks during his visit to McGuire Air Force Base at where he spoke about military personnel and families while at the base in Wrightstown, NJ 12/15/14. Photo by: Ed Murray, NJ Advance Media for NJ.com
NJ.com - Washington - A New Jersey search and rescue team is in line for federal funding as an officially designated U.S. National Urban Search and Rescue System member.
The Federal Emergency Management Agency recommended that New Jersey Task Force One, a team based at Joint Base McGuire-Dix-Lakehurst, be added to the national system. The designation includes federal funding for training and equipment.
"As a result of dangerous world we live in, these emergency management teams, professionals and volunteers alike, are our best and most important lines of defense," said U.S. Rep. Rodney Frelinghuysen (R-11th Dist.). "In their hands is one of our nation's greatest missions: protecting our homeland."
Frelinghuysen and nine other House members from New Jersey are sponsors of legislation directing FEMA to add the New Jersey squad to the national system.
Task Force One members were among the first responders to the World Trade Center site after the Sept. 11, 2001, terrorist attacks and helped New Jersey residents after Hurricane Sandy.
They "are among the best urban search & rescue personnel our country has to offer," said Rep. Frank LoBiondo (R-2nd Dist.). "Their skills have been put to the test and exceeded national standards."
If approved, the New Jersey team would be the 28th member of the national system.
"This long overdue designation will bolster both our state and our nation's emergency preparedness," said U.S. Rep. Chris Smith (R-4th Dist.).
On Thursday, the entire 14-member state congressional delegation wrote to Homeland Security Secretary Jeh Johnson and FEMA Administrator Craig Fugate, asking them to approve the recommendation.
"New Jersey needs its own federally supported team, as our state is one of the most densely populated areas in the country," the lawmakers wrote. "This designation would enhance New Jersey's security, provide the task force with more funding for training and equipment and ensure they remain prepared in the event of an emergency."
This article appeared on nj.com authored by Jonathan D. Salant.
http://www.nj.com/politics/index.ssf/2015/09/nj_search_and_rescue_team_may_get_federal_support.html