Christie to Public-Employee Unions: No Contracts, No Step Increases in Salaries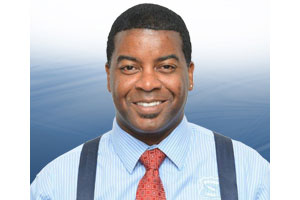 Lance P. Lopez Sr. is the president of Local 105 of the New Jersey State Policemen's Benevolent Association.
The administration takes a tough stand on step increases, but unions argue that incremental pay is typically paid without a signed and sealed contract.
NJSpotlight.com - Gov. Chris Christie has taken an aggressive approach to dealing with public workers and their unions since taking office in early 2010. He's encouraged voters to reject school budgets in communities where teachers weren't accepting pay freezes, pushed to change civil-service rules, and signed legislation that forced employees to pay more toward to their pensions and health benefits.
Now that Christie has joined the 2016 GOP presidential primary field, his administration is taking another tough stance. It recently told thousands of union members whose contracts expired June 30 that they won't be receiving annual incremental pay increases while there's no new deal in place.
In the past, the unions say workers have generally received their annual increases if their performance merited the bump -- even without a contract in place.
Christie's freeze affects state office workers, college professors, corrections officers, and other groups of public workers who haven't yet reached the top of their pay scales.
Public-worker unions have been responding to the Christie administration's new position on pay increments -- something many view as a pressure tactic -- by filing administrative grievances and at least one union, Policemen's Benevolent Association Local 105, has filed suit in Superior Court.
Lance Lopez, the president of PBA Local 105, said the Christie administration's freeze affects 3,700 members of his union. The prior agreement with the state said that the rules established under a contract that expired on June 30 would be extended for a year if no new agreement was reached, he said. And the union would have had to have been informed in writing by February 1, 2015 of any change, which didn't occur, he added.
"In the past they've always maintained these step increments," Lopez said. "We believe that it's a violation of the agreement that we had."
The Christie administration's position on step pay comes at when the amount public employees contribute to their healthcare coverage is starting to become a hot issue. That's because of a four-year sunset provision on healthcare contributions that was a part of the 2011 law that forced them to pay more toward both pensions and health benefits. For now, the status quo remains in effect, but because of the sunset provision, healthcare contributions will be back up for negotiation as contracts come up for renewal.
For Christie, a second-term Republican, dealing aggressively with public-workers has been a hallmark of his tenure.
Just months after taking office amid the recession in early 2010, he encouraged voters in school elections to reject budgets when teachers had not accepted the pay freeze he called for at the time. He also proposed a series of civil-service changes and has continued pushing against some employee job protections. And in 2011, he worked with Democratic legislative leaders to pass the bill forcing employees to contribute more toward their pensions and health benefits.
By taking the stance that workers are no longer entitled to step increases, the Christie administration appears to be adopting a position that the state Public Employment Relations Commission took last year in a case in Atlantic County, in which the local government was in a labor dispute with sheriff's department officers. The commission upheld the county's position that it did not have to follow the practice of adhering to step increments when a contract has expired.
"We have acted appropriately and fully within the law," said Christie spokesman Brian Murray, when asked about the freezing the pay increments and the union lawsuit filed against the state.
And the pay-increment issue has heated up just as the four-year sunset provision in the June 2011 worker-benefits reform law, which is commonly referred to as Chapter 78, has started to become a factor in labor-contract negotiations at all levels in the state. That's because contracts are now starting to and will continue to come up for renewal in which the health contributions are no longer simply mandated by the 2011 law.
Chapter 78 is the same law that called for the state to increase its own contributions to the chronically underfunded public-employee pension system over a seven-year term to reach the full amount that actuaries say is necessary to restore the pension system's health.
But Christie, despite touting the reform effort as having saved the pension system, reneged on the promise to make increased pension contributions last year amid state budget problems. And the state Supreme Court, in a major ruling issued last month, said the state constitution does not compel Christie or other governors to follow the payment schedule that was promised under Chapter 78 as a contractual right of the employees.
That ruling came even as the employees are still paying more toward their pensions because there was no sunset provision put in place like the one that applies to health benefits.
Depending on how contract negotiations go, state and local governments could be forced to once again pick up more of the cost of their employees' health benefits. Chapter 78 required workers to pay more for their health benefits by phasing in over four years contributions between 3 percent and 35 percent of premium costs, depending on salary.
Frank Belluscio, a spokesman for the New Jersey School Boards Association, said the sunset provision doesn't come into play until the higher contributions have been fully phased in for a full year. For most school districts, the issue is still "off the table," he said.
"Once employee contributions become negotiable, boards will carefully consider the long-term implications of moving away from the cost structure dictated by Chapter 78," Belluscio said.
"By ensuring that employees pay their fair share toward health benefits, Chapter 78 has saved boards of education millions of dollars, which can be applied toward educational programming and controlling property taxes," he said. "NJSBA has called for statute to make permanent the cost-sharing provisions of Chapter 78."
And Murray, Christie's spokesman, said Chapter 78 only started the process of controlling health-coverage costs, which has become a huge expense for the state and continues to grow.
"The historic 2011 reforms finally began the process of putting in place reasonable cost-sharing for health benefits and fairness for taxpayers by having public employees finally contribute meaningfully to those costs," Murray said. "Nothing in the law suggests an intent to return to the costly, broken system of the past where employees paid little -- or sometimes nothing -- for platinum-level health benefit plans, and taxpayers were left with the bill."
But Lopez, the corrections union official, countered that it's wrong for the administration to say it wants to abide by certain components of Chapter 78 while at the same time choosing to ignore other requirements that are spelled out in the law, such as the state pension contributions.
"You shouldn't be able to pick and choose portions of Chapter 78 that you feel are right," he said. "It's not fair."
Christie, meanwhile, has also proposed a new set of benefits reforms this year, including freezing the current pension system -- which is at least $40 billion in debt according to the most recent actuarial reports -- and moving employees into a new retirement system with features of a 401(k).
Christie has also proposed forcing workers to accept less generous health coverage and using the savings to help pay down the current pension system's debt, and also pushing the cost of teacher pensions onto local school boards after decades of being a state expense.
So far, none of the Democrats who control the Legislature are working with the governor this year on the employee-benefits issue, which is something they did before the major changes were enacted in 2011. And the unions are confident that they will eventually be able to broker better deals once Christie's second term runs out in early 2018.
This article appeared on njspotlight.com authored by John Reitmeyer.
http://www.njspotlight.com/stories/15/07/13/christie-to-public-employee-unions-no-contracts-in-place-no-step-increments-for-salaries/