Woman, Dog Killed in Fire at Elizabeth Home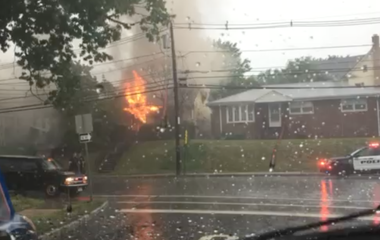 A woman and dog were killed in a fire Sunday at a home on Galloping Hill Road in Elizabeth. Photo/Video by: Joseph Capone
May 31, 2015
NJ.com - ELIZABETH - A woman and dog are dead after a fire at a city home that may have been sparked by lightning this afternoon, according to authorities.
Elizabeth spokeswoman Kelly Vence said both were found unresponsive inside the house on Galloping Hill Road. Firefighters had been called to the address shortly after 4 p.m. after reports of heavy fire.
Vence described the woman as middle-aged, but said her identity was being withheld until her family could be notified.
It was unclear if anyone else lived at the home, or may have been inside when the fire broke out.
Heavy thunderstorms were passing through much of northern Jersey when it broke out, and Vence said early indications were that it may have been caused by lightning.
Heavy rain was still falling as of around 6:30 p.m., which she said was hindering an investigation and would likely delay an official ruling on what sparked it.
Check back for more information on this story when it becomes available.
This article appeared on nj.com authored by Dan Ivers.
http://www.nj.com/union/index.ssf/2015/05/woman_dog_found_dead_killed_in_fire_at_elizabeth_h.html