LETTER: Sayreville Mayor's New Job a Public Insult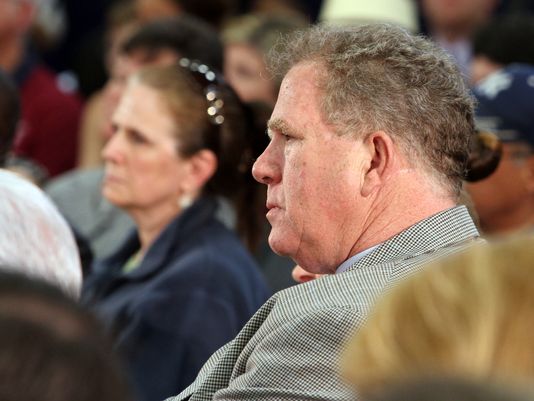 Sayreville Mayor Kennedy O'Brien, hired in January as a director with the state Department of Corrections, will be able to retire with a pension of more than $40,000 a year for the rest of his life in four years. Sayreville mayor Kennedy O'Brien listens to Governor Chris Christie during a town hall meeting, Thursday, April 3, 2014, at St. Stanislaus Kostka School in Sayreville, NJ.Jason Towlen/mycentraljersey.com
mycentraljersey.com - Sergio Bichao's recent stories regarding Sayreville Mayor Kennedy O'Brien's new job are just another example of what is really wrong with New Jersey's public pension system.
While Gov. Chris Christie is running around the state patting himself on the back for a job well done, or touring the U.S. auditioning for what he believes will be his next big role, my members, the more than 5,000 brave men and women that put their lives on the line every shift, are among those who are being accused of being the "problem" when it comes to our state's financial woes.
I am not questioning Mayor O'Brien's qualifications for or ability to do the job in question. What I am questioning is how Gov. Christie can speak of a broken pension system yet oversee a not-so-subtle political move that will allow an individual who has only contributed to the pension system from his $5,500 a year mayor's salary for the past 20 years to collect $40,000 a year for the rest of his life?
We know now that Gov. Christie is not going to act appropriately in this matter, and isn't really serious about his duty to the state of New Jersey, but I hope that his Republican counterparts in the New Jersey Legislature will use this latest affront to the taxpayers to stand together and take action with those who are serious about putting our state back on sound financial footing.
Eddie Donnelly,President
New Jersey Fireman's Mutual Benevolent Association (FMBA)
This letter appeared on mycentraljersey.com authored by Eddie Donnelly.
http://www.mycentraljersey.com/story/opinion/readers/2015/05/22/sayreville-mayors-new-job-public-insult/27712165/