American Heart Association Honors Trinitas Regional Medical Center and Elizabeth Fire Department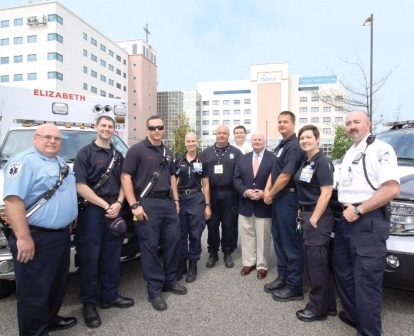 Left: Members of the Emergency Medical System (EMS) Division of the Elizabeth Fire Department celebrated their American Heart Association Lifeline® EMS Silver Level Recognition Award with members of the Trinitas Regional Medical Center Mobile Intensive Care Unit. At the center is Gary S. Horan, President and Chief Executive Officer of Trinitas Regional Medical Center. Credits: Trinitas
TAPinto - ELIZABETH, NJ – A joint effort of Trinitas Regional Medical Center and the Fire Department of Elizabeth has been recognized with the American Heart Association's 2015 Mission: Lifeline® EMS Silver Level Recognition Award.
Under the direction of Brant Maslowski, BA, MICP, and coordinator of the Trinitas Mobile Intensive Care Unit (MICU), the Medical Center collaborated with the city to supply 2014 documentation about quality care delivered to patients experiencing chest pain. The joint submission took place since the Emergency Medical System (EMS) Division of the Elizabeth Fire Department provides basic life support while Trinitas MICU provides advanced life support for the city.
The American Heart Association recognizes the vital importance of the Emergency Medical System in providing immediate care to patients suffering from a myocardial infarction. Having the correct tools and training allow EMS providers to rapidly identify the STEMI, promptly notify the Trinitas Medical Center Emergency Department and the STEMI team, and initiate an early response from awaiting hospital personnel.
"The Trinitas Mobile Intensive Care Unit is pleased to share this success with the entire Trinitas Family, especially the Emergency Department, Medical Control Physicians, MedComm Dispatch Center, Trinitas EMS, the Cath Lab, and the Code STEMI Team," notes Joe McTernan, FACHE, Senior Director of Community and Clinical Services. Rod Muench, Director of Pre-Hospital Services, concurs: "Without the combined efforts of all these individuals, we wouldn't have achieved this goal."
This article appeared on tapinto.net authored by Tap Into Elizabeth Staff.
https://www.tapinto.net/towns/elizabeth/articles/american-heart-association-honors-trinitas-region