Ex-NJ Firefighter Collected Disability Pension While Performing Jiu-Jitsu, Cops Say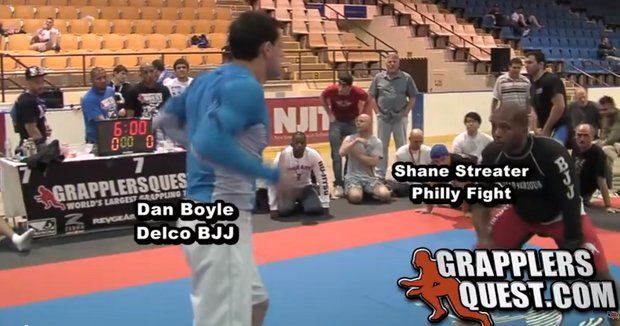 Shane Streater (right), 40, of Camden, allegedly collected $82,488 in state disability pension payments while at the same time teaching and competing in mixed martial arts. Streater is shown here in a YouTube video of a tournament in 2010. (Screen shot of YouTube.com)
NJ.com - TRENTON - A former Camden firefighter has been charged with stealing $82,488 in state disability pension payments while at the same time earning his black belt in jiu-jitsu and participating in a competitive mixed martial arts tournament, state authorities said today.
In 2009, Shane Streater, 40, of Camden, applied for an accidental disability pension asserting he was disabled after a car struck the fire truck he was riding in 2007, and when his fire truck hit a pothole in 2008, the state Attorney General's Office said.
Streater claimed to have injured his back and neck in the incidents. An independent doctor concluded he had a total and permanent disability, but that it was from a preexisting condition and not work related, authorities said.
In 2010, the state Police and Firemen's Retirement System awarded Streater a less lucrative ordinary disability pension. Ordinary disability pays 40 percent of salary and is taxed, while accidental disability pays two-thirds of salary and is untaxed.
Streater appealed, insisting his disability was work-related and he was entitled to the higher award. During the appeal, however, authorities said they learned Streater was teaching jiu-jitsu two or more times a week at a mixed martial arts academy.
They said they also found a YouTube video of Streater participating in the the highly competitive Grapplers Quest Mixed Martial Arts Tournament in 2010, at which he won a bronze medal. Investigators then determined he had earned his black belt that year. (The video was made private after being posted today to NJ.com.)
The pension board revoked Streater's disability in 2012.
"It's outrageous that this former firefighter was showing off his prowess in mixed martial arts, all the while that he was lying about a disability and collecting benefits from the firemen's pension system," acting state Attorney General John Hoffman said.
Streater was charged Tuesday with theft by deception. If convicted, he faces five to 10 years in prison. Streater was charged by summons and not arrested, authorities said, and the case will be presented to a grand jury for possible indictment.
He did not return a message seeking comment.
This article appeared on nj.com authored by Christopher Baxter.
http://www.nj.com/politics/index.ssf/2015/03/ex-nj_firefighter_collected_disability_pension_whi.html