Elizabeth Families Escape 3-Alarm Blaze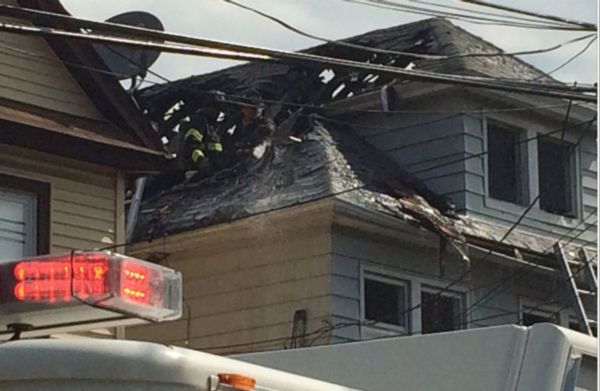 Fire that apparently started on the first floor of a two-story home burned up through the second-floor and and the roof. Nobody was injured. Photo by: Tom Haydon.
July 27, 2015
NJ.com - ELIZABETH - Firefighters from three municipalities this morning battled rising temperatures, smoke and flames from a three-alarm fire that damaged a two-family house in the north end of the city.
No one was injured in the fire that apparently started in the rear of the first floor of a house at 1353 Alina St., officials said. The fire spread to the second floor and the attic, said Fire Chief Thomas McNamara.
Firefighters from Newark and Union Township were at the scene, largely to relieve other firefighter attacking the blaze in the heat of the summer day.
"In this hot weather, we had to rotate the men," McNamara said.
Yolaninus Martinez, who lives next door to the burned house, said she opened her back door and saw the blaze.
"It was smoke and fire. It was really moving fast," Martinez said.
She yelled to her neighbors to get out, then she got her kids, husband and pet and ran out of her house and called 911 for help.
It was an unusual bit of excitement for the neighborhood, Martinez said.
"This is really a quiet neighborhood," she said.
The cause of the fire had not been determined this morning. McNamara said he expected firefighters to remain at the scene much of the day.
This article appeared on NJ.com authored by Tom Haydon.
http://www.nj.com/union/index.ssf/2015/07/fire_displaces_elizabeth_families_residents_escape.html